Dairy is a powerful part of the livelihoods of individuals, families, and communities all over the world.
One billion people rely on the dairy sector to support their livelihoods and to sustain communities in all corners of the world. 600 million people living on 133 million dairy farms support a long tradition of milk production for both processors and selling milk directly to consumers. 400 million additional people are supported by the full-time jobs that are created in support of dairy farming such as feed and fertilizer companies, milk collection, processing and retail.
In developed and developing countries alike, dairy rejuvenates rural economies. It provides sustainable livelihoods for smallholder farmers, generating income that feeds their families, sends their children to school, provides for their families' health and is reinvested in their farms and communities.
The sector supports the development of methodologies for measuring the social and economic impact of the dairying and how it can help deliver outcomes within the Sustainable Development Goals (SDGs) framework.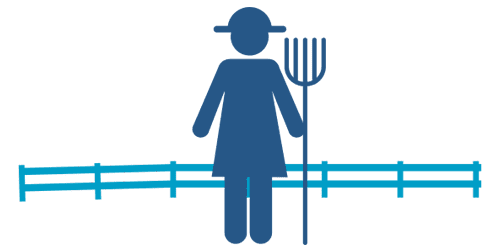 FOSTERING GENDER EQUITY
Over 37 million dairy farms are female-headed and 80 million women are engaged in dairy farming.
PRODUCTIVE EMPLOYMENT
Approximately 240 million people are employed, directly or indirectly, in the dairy sector.
SUPPORTING LIVELIHOODS
An estimated 60-65 percent of the income of marginal and small-scale farmers comes from dairying.
SUPPORTING ECONOMIES
Milk and dairy products account for about 14% of global agricultural trade.
development in dairy development in dairy development in dairy development in dairy development in dairy development in dairy development in dairy development in dairy development in dairy development in dairy development in dairy development in dairy development in dairy development in dairy development in dairy development in dairy development in dairy development in dairy development in dairy development in dairy development in dairy development in dairy development in dairy development in dairy development in dairy development in dairy development in dairy development in dairy development in dairy development in dairy development in dairy development in dairy development in dairy development in dairy development in dairy development in dairy development in dairy development in dairy development in dairy